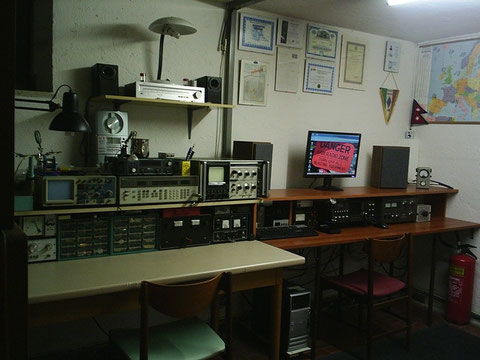 Hi Guys!
My name is Franco, I was born in 1960 and I live in a small village (northen Italy) 600 meters above the sea level, with my wife Monica and two "sweet sons". My Ham Radio Station (Latitude 45°52'33" N; Longitude 08°54'6" E; QTH Locator: JN45KV) is about 100 meters south mountain (Orsa 1000m and Pravello 1020m) of Lugano Lake (Switzerland). My radio experience was born when in 1966, viewing my friend operate on the "Collins R390" and I was fascinated by the possibility to listen the HAM Stations on the short wave.
Special thanks to I2RVE "Giannino" my old friend, because without his tenacity and Ham Spirit, I would never have begun how to SWL and above all I would never become OM.
My past Italian callsigns: SWL I2-1794 and IK2FRZ.
<< My loves are radios, antennas, tubes, RF, hi-end audio! I'm audiophile and I like anything that is not digital. I love good food, good wine, good beer, islay whisky, air of mountain, good music, good friends and...pretty women. In a nutshell, good companionship! >>
<< My job is particular, because this is Information Tecnology and  I'm in charge this sector since 1983 with different responsibility and experiences.
More or less from ten years I'm a Group Specialist of the "Storage and Backup Infrastructure" for my Company an International Group, leader as global specialist in electrical and digital building infrastructures. >> 
Habere non haberi! 
73 de IZ2HFG Franco
http://www.qrz.com/db/iz2hfg
e-mail: iz2hfg(AT)gmail.com